Products
Products
Brands
Brands
Eizo ColorEdge CG318 - 4K
Eizo ColorEdge CG318 - 4K
Product Description
Quadruple the Resolution of Full HD. And Then Some.
The ColorEdge CG318-4K displays the DCI 4K standard (4096 x 2160) which is more than four times that of full HD (1920 x 1080). It's ideal for creating, editing, and referencing with 2D and 3D CGI, VFX, compositing, and color grading.
Large 31.1" Screen
Whether you are creating, editing, or checking your work, this screen offers ample space to focus on 4K content. At a dense 149 ppi, it's suited for not only video but also photo retouching and printing.
HDR Gamma Support
EIZO offers optional HLG and PQ curves for many of its current CG Series monitors. The optimized gamma curves render images to appear more true to how the human eye perceives the real world compared to SDR. These products will support the HDR workflow from shooting to color grading.

Reproduces 98% of DCI-P3
This wide-gamut monitor faithfully reproduces almost the entire DCI-P3 standard used in digital cinema. It also covers 100% of the Rec. 709, EBU, and SMPTE-C standards and 99% of Adobe RGB. What's more, it reproduces the sky blues and lush greens that standard sRGB monitors cannot.

SelfCalibration Sensor for Hassle-Free Maintenance
Automate your calibration with the SelfCalibration sensor that is housed within the monitor's top bezel and swings down onto the screen only when calibrating. This sensor eliminates the need for a third-party calibration device and works with EIZO's ColorNavigator 6 and ColorNavigator NX software.


Color Management Software
For individual users such as photographers that require multiple options for monitor profiling and print matching.

Color Management Software
For organizations that want to conduct color management from one location.

True Black Display
In compliance with the DCI standard, the ColorEdge CG318-4K offers a high contrast ratio of 1500:1 for producing true blacks that are otherwise difficult to display on a typical LCD monitor. When viewing the screen from an angle in a dimly lit room, dark tones typically appear washed out due to the display characteristics of LCD backlights. The CG Series is equipped with a film which allows tones to retain their depth even when viewed from an angle.
Display of blacks from an angle in a dimly-lit environment
Multiple Inputs
With a single cable, the DCI 4K resolution at 60 Hz is supported by both DisplayPort 1.2 inputs and at 30 Hz by both HDMI inputs.

Consistent Color Display with IPS Panel
A large screen monitor often exhibits color shift when viewed from an angle. With an IPS panel, more than one person can view the screen at once with little change in color or contrast.
Uniformity from Corner to Corner
Fluctuations in brightness and chromaticity on different parts of the screen are a common trait of LCD monitors. To counteract this, EIZO's patented digital uniformity equalizer (DUE) technology ensures a Delta-E difference of 3 or less across the screen when the monitor leaves the factory. DUE also counterbalances the influences that a fluctuating ambient temperature may have on color temperature and brightness to ensure stable image display.
10-Bit Simultaneous Display
With 10-bit simultaneous color display* from a 16-bit look-up table, the CG318-4K can show more than one billion colors simultaneously. This is 64 times as many colors as you get with 8-bit display which results in even smoother color gradations and reduced Delta-E between two adjacent colors.
*A graphics board and software which support 10-bit output are also necessary for 10-bit display. Equipment that supports Deep Color is necessary with the HDMI inputs.

3D LUT for Accurate Color Display
A 3D LUT is included which adjusts colors individually on an RGB cubic table. With the emulation function of ColorNavigator 6 and ColorNavigator NX, the 3D LUT applies a film look to the image so creators can check how it will be seen by their audience.
Stable Color in Just Three Minutes
A typical monitor takes 30 minutes or more for its brightness, chromaticity, and tone characteristics to stabilize. EIZO has shortened the warm-up time to a mere three minutes. Whether you are working in a studio or taking the monitor with you on location, you get reliable color display soon after turning the monitor on.
Individually Adjusted at the Factory
EIZO adjusts the RGB color characteristics of each monitor at its factory to eliminate variation and ensure smooth tonal display.
Save Thousands of Hours in Annual Maintenance
With ColorNavigator Network software, an administrator can centralize management of all CG318-4K and other ColorEdge monitors on a network. For example the administrator can self-calibrate, set color modes, register or edit asset management settings and other tasks whether the monitors are local or remote. This ensures that monitors always have the proper settings and saves hundreds or even thousands of hours in annual maintenance time.
Broadcast and Cinema Presets
Preset modes for EBU, Rec. 709, SMPTE-C, and DCI ensure you can work in the appropriate color spaces and gamma values. To switch between the presets just push a button on the front of the monitor. With the built-in calibration sensor, you can adjust or maintain the brightness setting for each preset.
A safe area marker designates the area of the screen that will be displayed on any display device. This allows you to confirm that subtitles and other text will be visible.
Available with HDMI inputs only.
Area Light for Dark Editing Rooms
RadiLight is a lighting solution that easily attaches directly to the monitor and shines a 6500 K light on the wall behind it. This reduces eye fatigue while not impacting the screen's visibility. It is also equipped with a spotlight for conveniently navigating your workspace.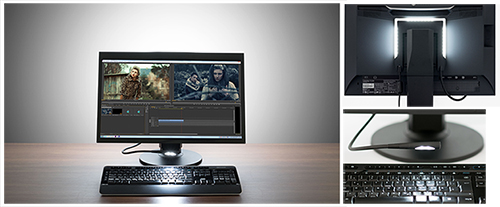 Flicker-Free for Reduced Eye Fatigue
The ColorEdge CG318-4K offers flicker-free viewing at all brightness levels. Now you can work without worrying about eye fatigue caused by viewing a flickering screen for long periods of time.

Light-Shielding Hood
The CG Series comes bundled with a shading hood that effectively prevents glare on the monitor's screen caused by ambient lighting. The ColorEdge CG318-4K's shading hood is newly designed and attaches to the monitor magnetically. This allows the users to attach the hood quickly and easily without needing to connect separate parts.
Commitment to Quality
5-Year Warranty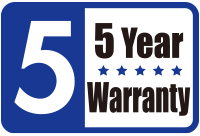 A manufacturer's 5-year warranty covers all components including the LCD panel. EIZO can guarantee a long service life because it manufacturers its products at its own factories ensuring close control over production quality
Zero Bright Pixels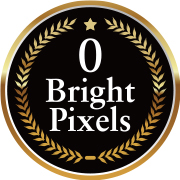 EIZO guarantees this product will be free from bright sub-pixels for six months from purchase date for purchases made on September 1, 2015 or later.
Brightness and Color Warranty
Brightness and color are warrantied for up to 10,000 hours from the date of production.
Must be used within the recommended brightness of 120 cd/m2 or less and the color temperature between 5000 – 6500 K.
TUV Color Accuracy and FograCert Softproof Monitor Certified

This is among the first monitors in the world to obtain TUV Rheinland's Color Accuracy (Quick Stability grade) certification. Color Accuracy is the first quality and performance criterion to measure the color accuracy of display devices for multiple graphics fields such as photography, post production, design, and printing.

It is also recognized by Fogra as a Class A FograCert Softproof Monitor. Using it in a FograCert Softproofing System ensures designers, print specifiers, and print producers can rely on the soft proof for predictable and consistent results.
Color Simulation Software
EIZO's UniColor Pro software simulates color blindness when used with select EIZO LCD monitors. It allows designers to see how their printed materials, signs, web contents, videos, etc. will appear to those with color blindness.
Warranty Information
Find Similar Products by Tag
Product Reviews
Find Similar Products by Category
Customers also viewed